Glow in the dark Guide Board (Photoluminescent Material Coating)
The surface of the guide board material is PVC luminescent films, which is about 1.2 mm thick. We have three choices for illuminance periods for customers to choose from: 4-6 hours, 6-8 hours and 8-10hours. Materials can also be customized according to customer requirements, including PET or acrylic.
The photoluminescent materials can be used to print the patterns that clients need, such as floor patterns, decorative patterns and so on. As there are no adhesive hard materials on the board, it can be either hung or fixed on the wall.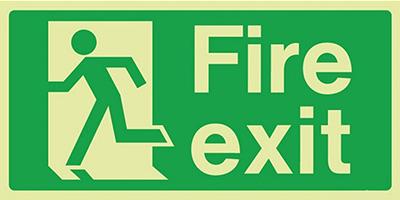 Safety signs: The materials are used to print safety signs. Safety signs are adhered to emergency evacuation routes, underground stations, underpasses, air defense projects, karaoke halls, dance halls, cinemas, supermarkets, hospitals, railway stations, airports, piers, and more for a brightly lit safety marker.
| | | | | |
| --- | --- | --- | --- | --- |
| Glowing time | Brightness Mcd/lx.㎡(10min) | Size | Indoor lifetime | Outdoor lifetime |
| 4-6h | 120mcd | 0.6×1.2m or other sizes | 10 Years | 5 Years |
| 6-8h | 170mcd | 0.6×1.2m or other sizes | 10 Years | 5 Years |
| 8-10h | 220mcd | 0.6×1.2m or other sizes | 10 Years | 5 Years |
| 10-12h | 280mcd | 0.6×1.2m or other sizes | 10 Years | 5 Years |
Our PET luminescent films feature an outstanding heat and cold resistance, and are applicable to any environment temperature ranging from -20℃ to 50℃.
This photoluminescent film is processed using aluminate materials activated by high quality rare earth elements with a specific degree of brine and detergent resistance.
We adjust the amount of the luminous powder for different light storage amounts and luminance periods.
Photoluminescent films can be cut into different small pieces to meet the clients' needs.
0.6×1.2m material and packaged every 600 in a tray
CAIYUAN photoluminescent material can be stored in the dry places.