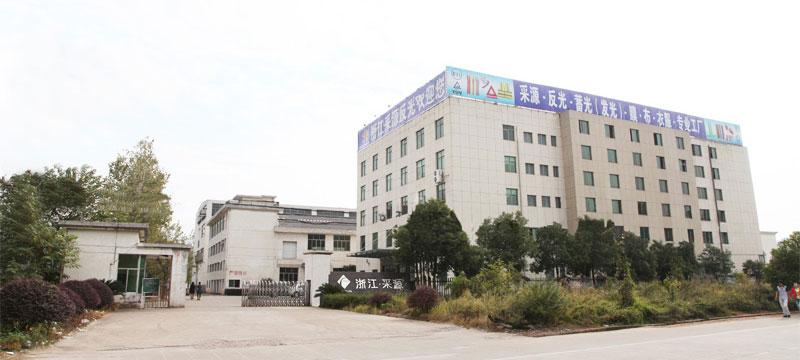 Zhejiang Caiyuan Reflecting Material Co., Ltd., established in 2005, is located in Jinhua Wuyi Economic and Technological Development Zone, and covers a space of 20,000 square meters. Employing more than 100 individuals, we have an extensive product line, including luminous films, reflective fabric, reflective films, reflective vests, reflective warning triangles and reflective products such as reflective fabric tapes, reflective edging strips and heat transfer films. Our products are often used in an array of public spaces, ranging from underground tunnels and civil air defense, all the way to theaters and grocery stores for both safety and decorative illumination. We have produced more than 6 million reflective fabrics, reflective films, and luminescent films, and more than 2 million reflective clothes and warning triangles. Our products are popular in Europe, the United States, and the Middle East.
CAIYUAN operates 4 advanced coating machines, 2 embossing machines and 6 precise slitting machines so that we are able to offer a complete range of customization services for our clients, including the colors, sizes, materials and printing and lettering of logo patterns. Simply contact us with any requirements you have for customization of photoluminscent products and reflective products, and we will be glad to assist you.
Our company, CAIYUAN, specializes in providing clients with the customized reflective materials and related products. If you want to customize any reflective product, please contact us.
Colors: The regular colors are white, yellow, red green, blue and black. We can customize other colors based on customer provided samples.
Size: The regular size is 1.24m×45.7m/tape, though we can cut to client requirements.
LOGO pattern printing: We can print logo patterns on a variety of materials, such as PET, PVC, acrylic, and paper boxes.
Lettering: For luminescent films, reflective films and heat transfer films made of PET, we offer lettering service.
We are certified to ISO 9001, European Standard CE EN20471, E-MARK, EN469 and EN12899, American ANSI/107, China Compulsory Certification (CCC) and other domestic and international standards.